My Portal 
My Portal gives you access to Student Email, WebAdvisor, Canvas and other student applications. 
Log in by clicking My Portal at the top right-hand corner of the Madera Community College webpage.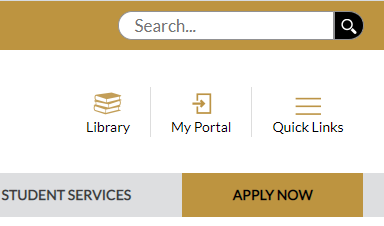 Username:
Your 7-digit student ID number 
First-Time Password:
First letter of your FIRST NAME (UPPERCASE)
First letter of your last name (lowercase)
Your 6-digit date of birth in mm/dd/yy format
Change your default password as soon as possible. Use the login screen to change your password.  
For example:
Robert T.  Jones Martinez is born on January 5, 1999, and his ID number is 0123456. His login information would be:
Username/Login ID: 0123456
Password: Rj010599
To change your password:
Go to the sccd website link for password change
This will change your password for email, WebAdvisor, Canvas & Wi-Fi
Login Support 
Call (844) 887-2223 or visit scccd.edusupportcenter.com for 24/7 assistance  
IMPORTANT: A pop-up will appear the first time you log in to My Portal asking to confirm/update your Communication Preferences. You must update your Communication Preferences to enroll in emergency notifications and the password reset system (in case you are unable to log in to My Portal).
WebAdvisor
Use these resources for step-by-step instructions on how to search and register for your classes. Download them now and view at your own convenience!
You can check your registration eligibility via WebAdvisor: WebAdvisor > Registration > Registration Eligibility Information
Student Education Plan (SEP)
A Student Education Plan (SEP) is a document you and your counselor create together. It maps the courses and activities needed to reach your academic and career goals.
A SEP should be developed before you start your first semester and is then updated until you graduate!
If you need to meet with a counselor to create your SEP, please contact the Counseling Department to schedule an appointment:
Phone: (559) 675-4141
Email: counseling@maderacollege.edu
If you have already met with a Madera Community College counselor and need a copy of your SEP, submit this SEP Request Form. Your SEP will be sent to the email address provided on the form or your SCCCD email. Please allow 1-2 business days for processing.
Waitlisted Courses
What are waitlists?
A waitlist is a list that students can join to wait for open seats in a class. If a student in the class drops, a seat opens up and is filled by a student on the waitlist. Being on the waitlist does not guarantee you a seat in the class. It does, however, give you a priority in making it more likely you will get a seat in the class.
Do I have to pay to be on the waitlist?
There is no fee for adding your name to a waitlist. However, once you have registered for the class, if fees are not paid on or before the payment due date you might be dropped from all classes.
Waitlists will be active from the first day of registration through the Thursday prior to the start of the term. For short-term courses, the waitlist will close 7 days prior to the start of the class.
How do I join a waitlist?
When trying to register for a class in WebAdvisor that has no open seats, students will get the chance to join a waitlist. The class will appear waitlisted in the student's class schedule. Students can waitlist multiple courses.
How do I manage my waitlist?
Once you have added your name to a waitlist, you can log into WebAdvisor and click on "Manage My Waitlist" to check your waitlist status. Below are the three different waitlist statuses:
Active = you are still on the waitlist waiting for a seat.
Permission to Register = You are now eligible to register for the waitlisted course.
Expired = Your waitlist has expired and you have lost your opportunity to register.
How do I register into a class from a waitlist?
Once your seat becomes available in your waitlisted course, you will receive an email notification. The message will only be sent to your student email account. You can also access this information in WebAvisor under "Manage My WaitList" to see if your status has changed to "Permission to Register."
Once permission to register is granted, you will have four days (including weekends) to enroll in the class using WebAdvisor. After four days, if you have not enrolled in the class, you will be removed from the active waitlist and the next student on the list will be notified. We recommend you use a laptop or desktop computer when registering to avoid compatibility issues with cell phones or tablets.
What if I forget to check my email?
It is your responsibility to check your email and/or your waitlist status. The time allowed for enrollment will not be extended. You should check your email or status on WebAdvisor daily to allow yourself the maximum amount of time to enroll.
What if I'm still on the waitlist after registration has closed?  
If you are on a waitlist after registration closes, you must attend the first class meeting and check with the instructor to see if there is space available for late enrollment. If you do not attend the first day of class, you will lose your place on the waitlist and another student may be added instead. If there is space in the class, the instructor will provide you with a registration code that you can use to register through WebAdvisor.
What if I've waitlisted an online class?
Prior to the closing of registration, the same exact process applies for students on a waitlist for online classes. After registration has closed, if a space becomes available during the add period, you will receive an email from the online instructor with a registration code that will allow you to add the course.
What if I have a registration hold or need assistance registering?
You must visit any SCCCD campus to resolve registration holds or call the admissions & records office for assistance during regular business hours, Monday through Friday, 8 a.m. to 5 p.m. (559) 638-0323
What if there is a time conflict with my waitlisted course and another class on my schedule?
WebAdvisor will allow you to waitlist courses regardless of time conflicts with other courses on your schedule. But, the system will not allow you to register for courses that have overlapping meeting times. If you are granted permission to register for a waitlisted course that meets at the same time as another class on your schedule, you will have to drop the class causing the time conflict or remove yourself from the waitlisted course.
If you need assistance call the Student Systems Support call center at (559) 499-6070.
Classes can still be added during the first three weeks of a semester.
To add a class, request an add code from the class instructor. It is up to the instructor to determine if their class can be added at that time.  
See instructions on How to Use and Add Code
You will need your student ID to register. Can't find your student ID? 
Option 1: You can find your student ID in the email that you provided on your application. To locate your student ID number, enter "application acknowledgment" in your email search bar.
Option 2: Search using your last name and social security number. 
 Option 3: Call the SCCCD Student Helpdesk at 1 (844) 887-2223.
Subject Course Abbreviations
View the Subject Abbreviations list below to assist you in searching for classes listed on your SEP. 
Schedule Planner Template 
If you are registering for multiple classes, use this class planner to coordinate your schedule and ensure your class times do not overlap and also fit your availability.
Schedule of Courses
If you would like to review a list of all classes being offered, you can review the course descriptions, days/times, locations, instructor information, and section numbers.